All about Bristol's Clean Air Zone
As part of a government-led initiative to improve air quality, Bristol, along with a number of other major cities, will be introducing a "Clean Air Zone" in the city centre.
Not only is transport the biggest cause of greenhouse gases in the UK that harm our environment, but poor air quality is a risk to our health and is sadly the cause of an estimated five deaths in Bristol every week.
Action Net Zero is supporting Bristol residents and businesses in moving towards a more sustainable and environmentally-friendly future.
We highlight easy and affordable actions we can all take to reduce our carbon footprint and create a healthier and greener city for the benefit of everyone...
What's the matter with our air?
Firstly, time for a chemistry lesson. We might not be able to always see or smell it, but the air in our city centres is laden with pollution which can have a huge impact on our health.
The exhaust fumes from petrol and diesel vehicles contain a group of gases called nitrogen oxides (referred to as "NOx") which are bad for us and our environment. One of these gases, nitrogen dioxide, is particularly harmful to us and can damage our lungs, our cardiovascular system and make existing respiratory illnesses such as asthma much worse.
In addition, the air in our cities also contains very small particles, such as tiny specks from tyres, road dust and fuel and oil. These particles - called "particulate matter" - can be twenty times smaller than a human hair. In fact, they're so small that when we breathe them in, they can enter our bloodstream and can have serious health implications, especially in children, older people and those with existing respiratory problems. One of our partners, Edwards, put together a video explaining a bit more about particulate matter and how they're removing it through their clean air management solutions.
The level of pollution in Bristol currently exceeds legal limits so the introduction of a Clean Air Zone is vital in addressing this.
Clean Air For Bristol has more information on air pollution and the introduction of the Clean Air Zone.
So what is a 'Clean Air Zone'?
A Clean Air Zone - or "CAZ" for short - is an area where direct action is taken to reduce air pollution, thereby creating better and healthier places for people to live and work.
Unlike a Congestion Charge, which is focused on reducing the number of vehicles that drive in the city to support traffic flow, a Clean Air Zone is designed to improve air quality in a built-up area.
One of the main ways in which a Clean Air Zone is created is through discouraging and thereby reducing the use of "high emission" vehicles. These are vehicles that emit toxic fumes, which are harmful to us and our environment.
Drivers of high emission vehicles which aren't compliant with the new guidelines are discouraged from travelling in the designated zone, usually through the introduction of a daily charge.
This simple change means cleaner air for everyone.
Are there other Clean Air Zones?
Bath and Birmingham have both recently launched Clean Air Zones and a number of other cities, such as Liverpool, Portsmouth and Manchester will join Bristol in introducing a Clean Air Zone over the coming months.
In addition, similar initiatives have been or are being launched in London, Scotland and elsewhere.
Although government-led, each local authority is able to decide which one of the four types of chargeable Clean Air Zones (or "CAZ") it introduces.
Bristol City Council will use class D - the same as Birmingham - to achieve the biggest reduction in air pollution, and improve air quality as quickly as possible, to protect our public health.
Types of Clean Air Zone
You can read more about Clean Air Zones on the Government website, here, and about Bristol's own Clean Air Zone here.
(Source).
How will it affect me?
Everyone who lives and works in the Clean Air Zone will benefit from the reduction in air pollution this will cause, making the city centre a greener, healthier and more pleasant place to be.
If you're a driver, the good news is that Bristol City Council have estimated that around 71% of vehicles in Bristol are already compliant with the Clean Air Zone guidelines proposed for the city (source).
Drivers of high emission vehicles that don't comply with the new CAZ guidelines will be subject to a daily charge whenever they travel through the Clean Air Zone.
If you're concerned about whether your vehicle is or isn't compliant, you can check your registration number through the Birmingham Clean Air Zone webpage, which has the same type of CAZ as Bristol.
If your vehicle isn't compliant, you may be able to get some financial help to change to an electric vehicle, which you can read more about in our guide to electric vehicles.
When will these changes happen?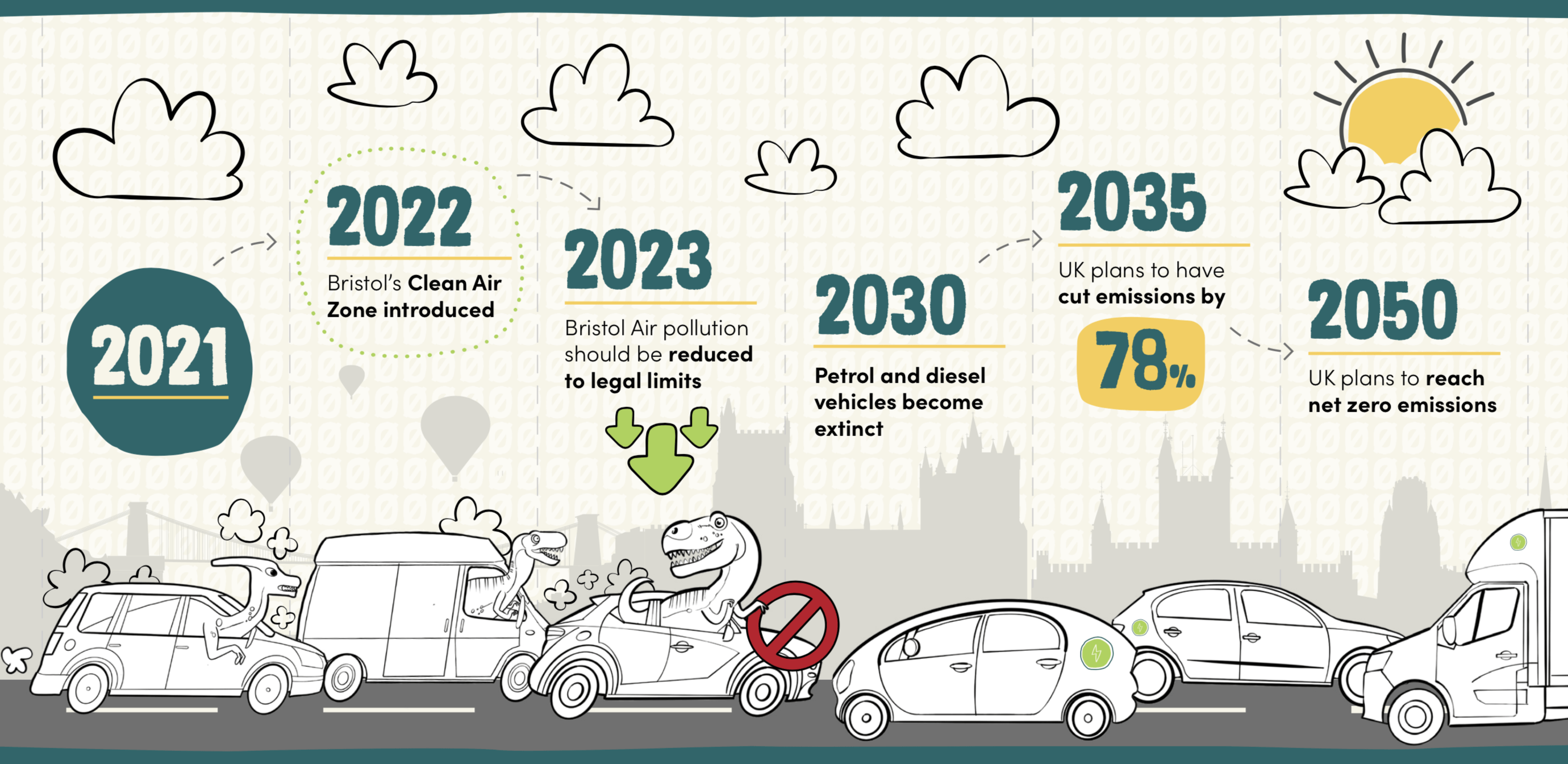 Although the Clean Air Zone will primarily affect vehicles, we can all do our bit to help reduce air pollution, ease congestion and improve our health by considering how we travel in and around our city. You can read more about Bristol's Clean Air Zone here.
How to start your journey to cleaner transport
We've become so reliant on our vehicles, that we don't always consider there could be another way of getting to our destination.
Walking, running or cycling are the most environmentally-friendly and just about the healthiest ways we can get from A to B. Great for us and the planet (double win!).
In addition, public transport or car sharing reduces congestion and the impact on the environment plus the last few years has seen a rise in business adoption of "greener" modes of transport such as e-cargo.
You can find out more about your transport options here.
Making the switch to an EV
If you take longer journeys, or need a car to get around, have you considered switching to an electric vehicle?
Electric Vehicles (EVs for short) have evolved a lot since they were first introduced to the UK market.
Now, nearly all major car manufacturers have electric vehicle options; and the improvement in technology means you can travel a distance of over three hundred miles on one charge!
With lower running costs, no road tax on many models and financial incentives on offer, changing to an EV is now a realistic and affordable option for all drivers.
Read our full guide to joining the electric revolution here.